Talent marketing metrics that you present about your employer branding and marketing efforts vary based on the stakeholders inquiring. There are three tiers of talent marketing metrics you can monitor related to  your campaigns. These tiers are interconnected, aligning with the primary areas of focus for the respective stakeholders. Additionally, downstream metrics contribute to the calculations of the upstream metrics, as depicted below:
ROI of Talent Marketing Efforts
The top most layer of metrics you track is the return on investment (ROI). ROI in talent marketing describes how the overall recruitment metrics and brand awareness were impacted by the investments made. ROI % gives a measure of the value derived from the investments made in talent marketing, which is calculated by the following formula
ROI = (Value derived from the investment – Cost of Investments in talent marketing) / ( Cost of investments in talent marketing ) X 100%
There are four key metrics to measure the value derived from investments in talent marketing, namely:
1) Reduction in time it takes to fill a role.
Determine the average duration required to fill a position before and after implementing talent marketing investments. Each day saved in expediting the hiring process contributes a minimum value of $2,000 per day to the company.
2) Reduction in cost of filling a role.
Calculate the average cost incurred in filling an open role, pre and post investments made in talent marketing. This is calculated by the money spent across various stages in the recruitment process, tools used and also the time spent by various people involved in the recruitment process. 
3) Improving the quality of candidates in the pipeline
Engaging qualified passive candidates through consistent talent marketing campaigns leads to increase in referrals and applications from these people. Having a high quality of applicants means better conversion rates at each stage in the recruitment process and hiring top quality candidates.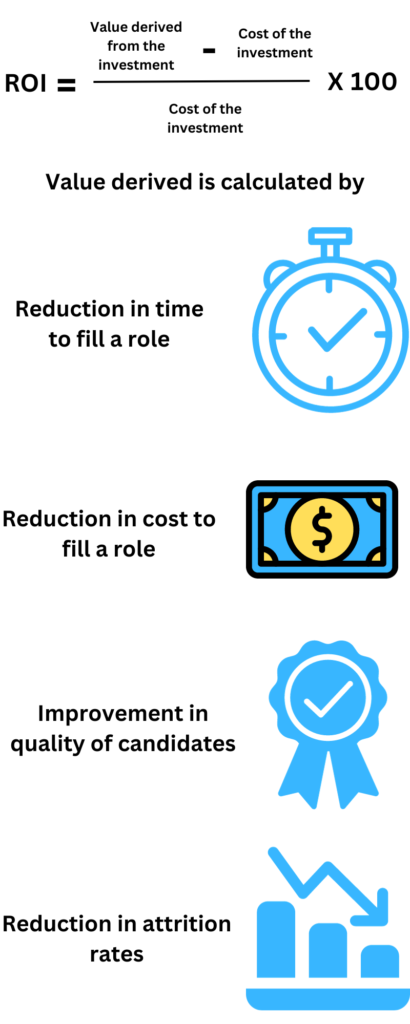 4) Reduction in attrition rates
When employees consume stories that showcase the company's acknowledgment of their efforts and offer an environment conducive to growth and belonging, they are inclined to remain with the organization longer. This effect is notably pronounced within globally distributed teams. Even a marginal 1% improvement in attrition yields substantial value addition to the company.
While there are many factors that influence these four metrics, the most important factor is the consistent efforts a company makes in marketing and promoting their employer brand via authentic content.
Talent Marketing Impact Metrics
Moving to the next tier of metrics involves assessing the effectiveness of your overarching talent marketing strategy, plans, and campaigns. These metrics play a vital role in shaping the ROI metrics previously mentioned. In certain cases, companies may not observe substantial changes in ROI metrics in the short to medium term. In such scenarios, the impact metrics serve as guiding indicators, helping the team evaluate the trajectory of their talent marketing efforts and ascertain if adjustments are necessary. Talent marketing leaders can predict the anticipated ROI by analyzing the impact metrics monitored on a periodic basis.
The impact metrics companies need to track include:
1) Increase in the number of job applications
Sustained investments in talent marketing efforts leads to greater brand recognition and engagement. This means, when a company opens new job positions, there is an uptick in the number of applications the company receives.
2) Increase in the number of referrals for open jobs
Authentic stories shared both internally and externally lead to positive feedback and recall for the company. This means, the company will receive a greater number of referrals from both employees and the talent pool. 
3) Increase in the diversity of the talent pool
When the company puts their content out there describing how they created a sense of inclusion and belonging for everyone, and how they cared for people during difficult times (example: the pandemic), people want to engage with the company. This leads to an increase in diverse talent joining the talent pool and applying for open roles.
4) Increase in the number of passive candidates joining the talent pool from competitors.
To engage passive talent, companies need to publish authentic stories from employees to describe how it is like to work at the company, what are the growth opportunities and how the company cares for their employees. This leads to a greater number of applications from passive candidates.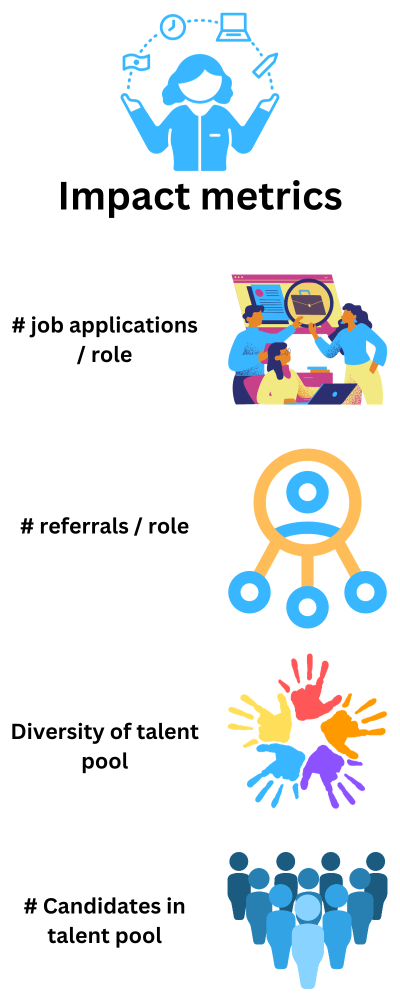 A positive movement in the impact metrics, improves the ROI for the talent marketing efforts of the company.
Talent Marketing Campaign Performance Metrics
The third tier of metrics are at a more granular level, which tracks the performance of each piece of content and campaigns across various channels. Tracking and optimizing these metrics will improve the impact metrics as discussed previously and hence, improve the overall ROI of the talent marketing efforts. 

The performance metrics that every talent marketing team needs to track include:
1) Awareness Metrics
Awareness metrics  look at the top of the funnel and how broadly your brand is reaching. This includes all the traffic and attention your brand has got. The key awareness metrics include:
Views
Reach
Traffic
Impressions
2) Engagement Metrics
When candidates engage with your content by sharing, liking or commenting on it, it contributes to engagement metrics. The data to track include:
Likes
Shares
Comments
Profile views on social media platforms.
3) Consideration Metrics
When you nurture passive talent through personalized communications they choose to join your talent pool and later consider applying for opportunities within your company. The metrics to track include:
Follow: Number of people who follow your brand or profile, especially on social media platforms.
Subscribers: Candidates who are subscribed to your talent newsletters.
Talent pool growth: Number of passive candidates who join your talent pool.
When you optimize your talent marketing content to improve your performance metrics including awareness, engagement and consideration, they impact the conversion which is tracked via impact metrics as discussed in the above section. 
Conclusion
Start measuring your campaign performance metrics and fine tune your campaign strategy to improve the impact metrics. This leads to a greater return on investment in your talent marketing campaigns.
About Krita.ai
Krita.ai is a talent marketing co-pilot that helps companies create employer branding campaigns and content. Krita platform recommends campaign ideas and content themes based on studying thousands of data points about your company, industry, competition and talent insights. Teams involved in talent marketing, recruitment marketing, and employer branding can utilize Krita.ai's co-pilot feature to facilitate employees in crafting and disseminating their authentic stories within and beyond the organization. For further information, please contact info@krita.ai.