Dost
Examples of how Dost can help create inclusive messages
Dost detects toxicity, microaggressions and unconscious bias in text, images & videos and nudges the sender to course correct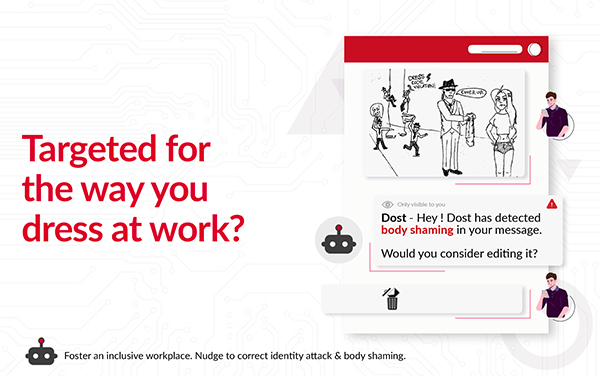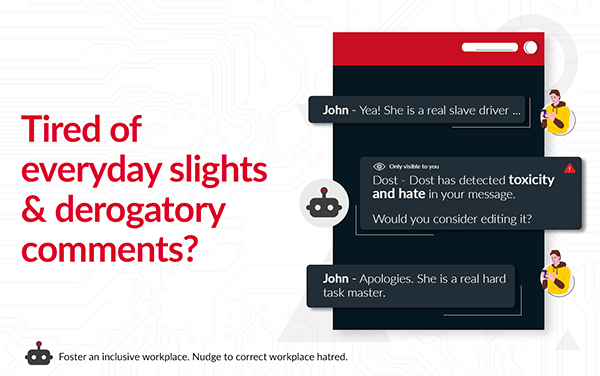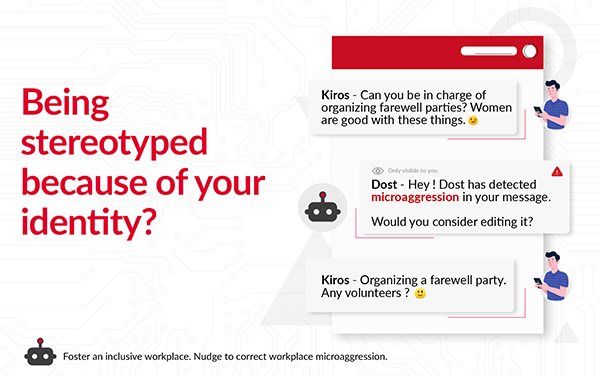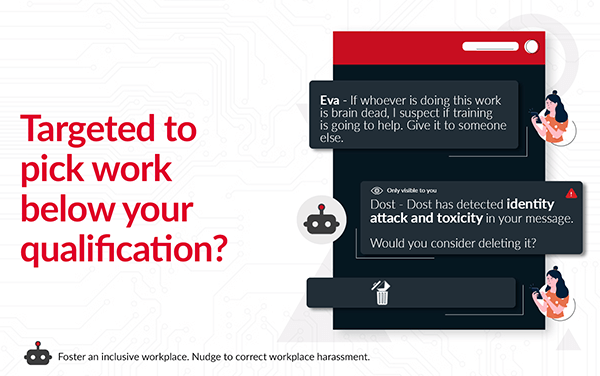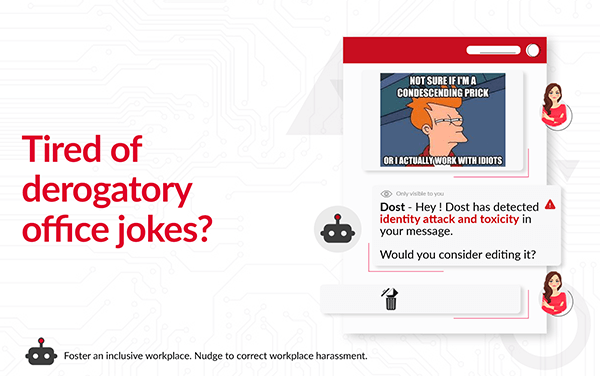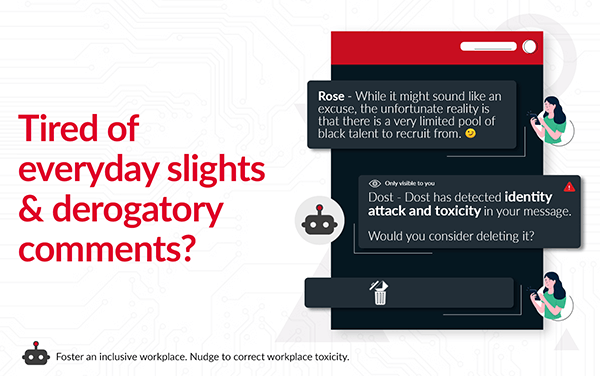 Dost for Slack & MS Teams is available. Any enterprise CRM, CS and messaging platform can integrate our Dost API
Subscribe

Install & Configure

Start with our free plan. This is where everyone starts.

Use
Thinking of rolling out Dost in your company?

We have created a bunch of assets that can guide you in change management, communications and rollout of Dost.
Frequently Asked Questions
Dost (pronounced like toast) means 'friend'. This word transcends many languages and cultures across South Asia and Middle-east.
Who is (a / your) Dost? Someone you can trust! Someone who is well meaning. Someone who does not hesitate to tell you things the way they are even if you are uncomfortable hearing it. Someone who taps on your shoulders and discreetly points out your errors with a positive intent. A dost never memorizes your past errors, does not share your errors with anyone else, and both forgives and forgets.
In the context of enterprise collaboration and communications, we were looking to build a product that acts as a catalyst for promoting inclusivity in written language, so that one does not inadvertently make other people uncomfortable due to the unconscious biases and toxicity that at times seeps into the language one uses.
Seamlessly integrated with your Slack or Microsoft Teams, Dost acts as a trusted friend in the room. When a person sends a message that is deemed toxic or biased, Dost immediately flags the content to the user with a discreet message and provides them an opportunity to consciously review their messages and take corrective actions (delete, edit, etc).
In addition, some key qualities of Dost app include:
Discretion & Trust: Dost messages are visible only to the sender. No one else.
Does not memorize: Dost does not store any user-information or the flagged messages sent by the user in its systems. This way, Dost has no mechanism to trace either the message or the user.
No whispering to others: Dost does not share or report data to anyone. Your messages and even the event that a message was flagged for a user is not sent to any other person. Since Dost does not memorize, there is also no mechanism in place to trace messages or the people sending it.
Does Dost seem familiar to you? Dost's logo is inspired by M-O from the movie Wall-E. Remember M-O? One of the most endearing and famous scenes from the movie is when M-O goes "Foreign Contaminant" when it first encounters Wall-E. The image of M-O, the purpose of the character and flagging unwanted things as "foreign contaminant" fits very well with the theme of Dost. Hence, we chose this as an inspiration to create our Logo.
Customizations are available for people in our paid tiers. Depending on your subscription type, we allow the following customizations:
Company branding colours, fonts and response structure.
Custom Avatar / Icon.
Custom name for the app.
Custom response messages, including

Default messages.
Issue specific messages.

URL configurations in response messages to direct users to company specific resources.